Cataracts
SEASON OPENER TICKETS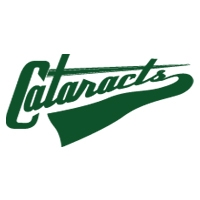 Tickets for the Cataracts Season Home Opening this coming Saturday and Sunday, against the Gander Flyers, will be available to Holding Seat owners this Monday and Tuesday evenings from 7-9 at the Joe Byrne Memorial Stadium Box Office. Tickets are $14 for seats. Standing room is $12 but only $10 for fans who purchase a Holding Standing Room ticket for the season. Ticket will be available to the General Pubic starting Thursday noon from Grantís Sports Excellence and Brides Snack Bar and from the stadium box office prior to game time.
[Full Story]
[2016-10-22 08:42:38]
---
The Kelly Ford Gander Flyers will be holding a training camp in preparation for the 2016 - 2017 CWSHL season at the Steele Community Center this coming weekend. All Flyers fans are invited to come out and see the practices on Friday (9:30 - 11:00pm), Saturday (10:00 - 11:30am and 7:30 - 9:00 pm) and finally on Sunday (10:00 - 11:30am).
All the Flyers Imports, Marc Cheverie (G), Tyler Carroll (LW) and Riley Craft (C), will be in attendance as well as the Royals players, Brandon Hynes (RW), Dane Marshall (D) and Scott Doody (LW) picked in the dispersal draft of the Corner Brook Royals.
[Full Story]
[2016-10-20 13:58:35]
---
Flyers
Flyers Hold Seat Sales Continue
Don't forget holding seat sales continue Oct 19th from 7-9 pm at the Steele Community Center.
Get in on the excitement and get your opportunity to shoot for a new car at our final home game!
Flyers Nation we NEED your Support! Community support is KEY to our success.
[Full Story]
[2016-10-19 07:29:41]
---
Flyers
Flyers Training Camp this Weekend
The wait is finally over! The Flyers return to the Steele Community Centre ice this weekend for training camp.
Drop over and check out this year's squad. Practice times are as follows.
[Full Story]
[2016-10-18 06:01:48]
---
CWSHL
LEAGUE/TEAMS RELIEVED THAT BOUS CRISIS RESOLVED
At a special meeting of the League and Flyers and Cataracts organizations with members of the Bous management late last night all parties were relieved to hear the good news that the Bous had resolved sufficiently the Season Passes concerns to confirm the 2016-2017 Season was "a-go" for all teams and the League.
The Bous will continue to finalize all aspects of preparation for team operations for the start up of the season, with the opener set for the Novemeber 4th weekend at Home against last year's Herder Champion GFW Cataracts.
[Full Story]
[2016-10-14 18:47:38]
---